NEW YEAR´S EVE GALA DINNER
€635 per person (VAT inclusive)
Gala dinner and Cotillion on 31st December 9 pm until 5 am. Cotillion in the 1912 Museo-Bar from 11.30 pm until 5 am.
Celebrate the last evening of the year in the most glamorous and cosmopolitan setting of Madrid.
The party will start off with "La Buena Estrella" orchestra playing a wide national and international repertoire. Following the Spanish tradition of the twelve lucky grapes, the party will reach its peak with Fernando Martínez Teruel "Fernandisco", DJ of the world's best parties, taking over the dance floor until the wee hours.
The internationally recognized Spanish chef from the Cantabrian region, Jesús Sánchez, awarded with two Michelin Stars, has designed a unique gastronomic proposal named "Cantabric Identity", featuring the best culinary jewels from the land and the sea of this delightful region of northern Spain. The dinner will be harmonized with Champagne Laurent Perrier and a selection of the best wines from the prestigious Herederos del Marqués de Riscal winery.
CANTABRIC IDENTITY
APPETIZERS
Spice bread with Liébana black pudding
Our version of "Gilda": gordal olive and spherical oil
Caramelized foie royale with olive sponge cake
Champagne Laurent Perrier Brut
MENU
Cantabrian coastal salted anchovy 2017 with anchovy in vinegar, cheese rock and pepper from Isla
Marqués de Riscal Limousine, D.O. Rueda
Artichokes cream soup with thistle, wild mushrooms and truffle bonbon
Marqués de Riscal Limousine, D.O. Rueda
Seafood ravioli with roasted langoustine and crunchy squid ink
Marqués de Riscal Limousine, D.O. Rueda
Veal of Cantabria in potato crust with veil of seeds
Barón de Chirel, D.O Ca Rioja
Citrus sorbet with mandarin and eucalyptus
Champagne Laurent Perrier brut
Passion for chocolate with "gianduja" and coffee ice cream
Good luck grapes, coffee and typical sweets from Cantabria
Full open bar
Midnight snack: Mini sandwiches, hot chocolate and churros


¿Do you wish to reserve your New Year's Eve Menu?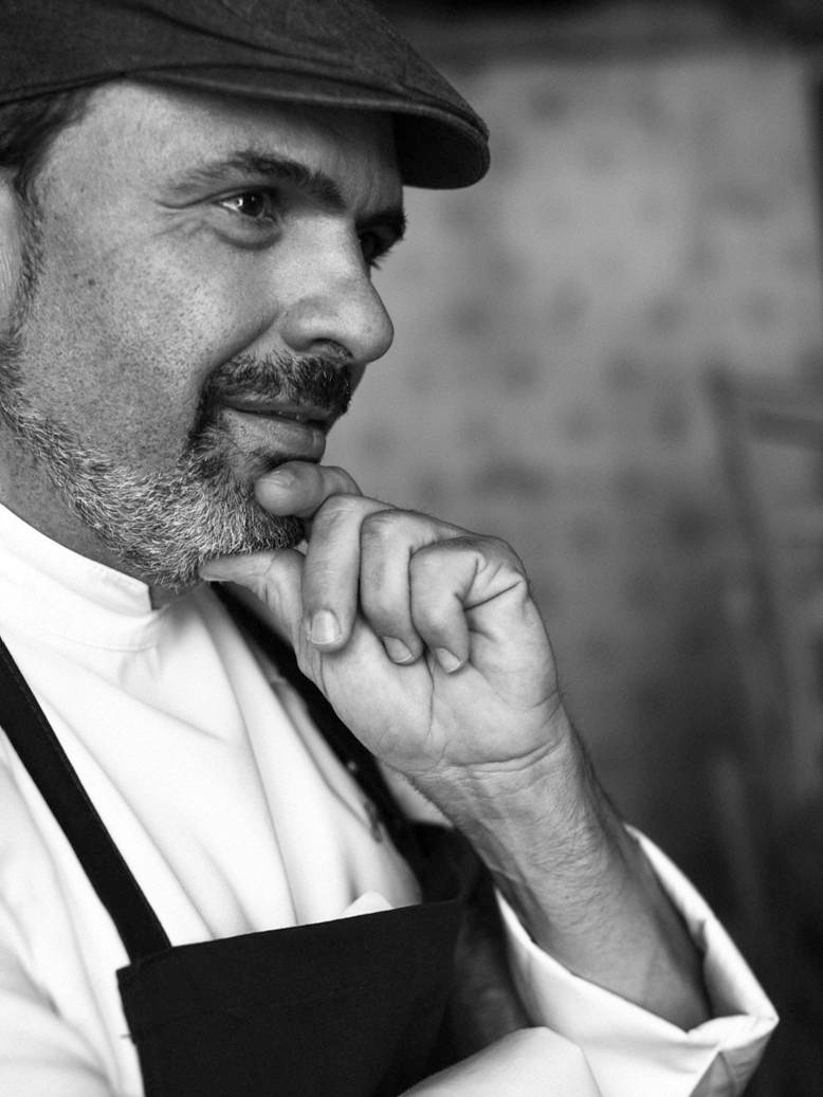 Jesús Sánchez
Chef at Cenador de Amós
Jesús Sánchez, ambassador of the Cantabrian anchovy around the world, is since 1993 the owner and chef of Cenador de Amós in Villaverde de Pontones, Cantabria. Renowned for its 2 Michelin Stars and 3 Repsol Suns, the Cenador de Amós, is one of the most solid references of the haute cuisine according to the specialized media.
Jesús ever since he was a child was highly passionate about cuisine and studied in the High School of Tourism and Catering in Madrid.
During his career he's had the opportunity to work in many high-end restaurant including: Jacques Cagna in Paris, Chapon fin in Bordeaux, Hotel Restaurante Ithurria, in Ainhoa, France and El Molino de Puente Arce, in Cantabria where he developed as head chef.